Graphs, y'all
[this is a cc of something I posted in my LJ in December]
Regular conversation at film school:
"Girls have plenty of protagonists! Look at Belle! Look at Mulan!"

"Those were 20 and 12 years ago, respectively."

"But-!"

"No. Stop. Name Five animated movies in the last ten years that had a female protagonist."

They never could. And some people still protested, but in the two classes where this ended up happening, I saw lights go on behind people's eyes. Oh my God. She's right. Those girl heroes I love were from my childhood. What about the kids today?

And since then, I've been thinking about it. And so I made a list.

I grabbed lists of all the animated Disney, Pixar and Dreamworks films from 2000 to today. This, of course, does not encompass all animated movies (Hi, Japan!) or even all western animated movies (hello, Coraline and Monster House), but they were the easiest to track down and list, and the easiest to organise. So let's look at some graphs and see the results!
GRAPHS TAKEN FROM THEATRICALLY RELEASED ANIMATED MOVIES FROM DREAMWORKS, PIXAR AND DISNEY.

TOTAL PERCENTAGE OF ANIMATED FILM PROTAGONISTS FROM 2000-2010 ORGANISED BY GENDER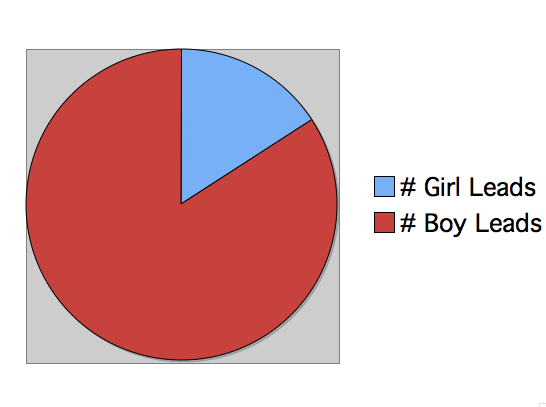 (15% girls, 85% boys)


NUMBER OF FILMS BY YEAR, ORGANISED BY GENDER OF PROTAGONIST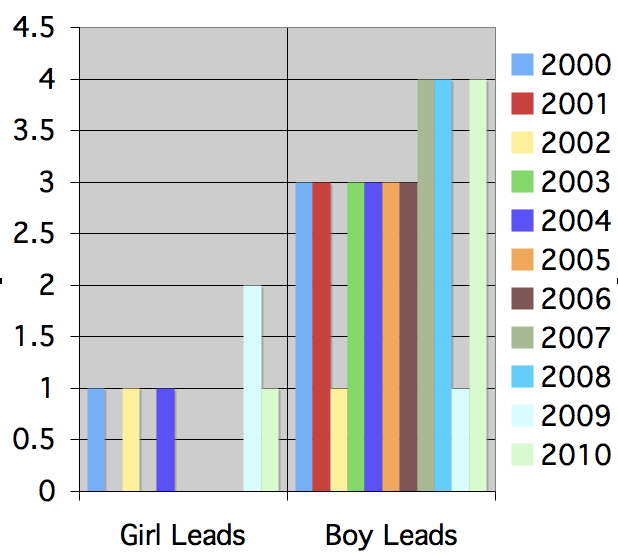 Girls were the lead of, in total, 6 movies. Boy were the lead of 32.

In the years 2001, 2003, 2005, 2006, 2007, and 2008 there were exactly zero new animated movies from any of these studios with a female protagonist.

There was not a year from 2000 to 2010 where a boy didn't feature in a leading role in a theatrically released animated film.

For those who are curious, announced movies from these three studios to potentially be released in the years 2011 to 2013 include 13 films with a male protagonist, and 1 film with a female protagonist.

This is what that looks like as a chart.



In case you're wondering about next year, in 2011 there are no planned animated films with female protagonists from any of these companies (but there will be four more movies about boys).

It gets even worse if you try to look at films that go beyond 2013. From all three of these companies, Pixar's upcoming Brave was the only planned animated movie I could find with a female protagonist.

I feel a need to remind everyone at this point that half or slightly more of our children are little girls.

I used to be a little girl. My niece is a little girl. And this is what she has to look forward to. One more movie.

This is why, despite believing that we can do way better for our kids than princess movies, I was gutted to hear that Disney isn't going to make any more of them. Because, princess movies can be awful and anti-feminist dreck, but look at those charts; They're also all we've got. I would be more than fine with Disney giving up on princesses if I saw any sign at all that they had come up with new stories with girls in the lead to replace them. But that's not what I'm seeing. And in light of that, I feel inclined to take "We're giving up on princesses" to mean "We're giving up on girls".




And the complete lists of movies that I used.


Theatrically Releases Western Animated Movies Since the Year 2000 

GIRL PROTAGONIST
Chicken Run – June 2000
Lilo and Stitch – June 2002
Home on the Range – April 2004
Monsters vs. Aliens – March 2009
Princess and the Frog – December 2009
Tangled – November 2010
BOY PROTAGONIST
The Road to El Dorado – March 2000
Dinosaur – May 2000
The Emperor's New Groove – December 2000
Shrek – May 2001
Atlantis: The Lost Empire – June 2001
Monster's Inc. – November 2001
Spirit: Stallion of the Cimmaron - May 2002
Finding Nemo – May 2003
Sinbad: Legend of the Seven Seas – June 2003
Brother Bear – November 2003
Shrek 2 – May 2004
Shark Tale – October 2004
The Incredibles – November 2004
Madagascar – May 2005
Wallace and Gromit – October 2005
Chicken Little – November 2005
Over the Hedge – May 2006
Cars – June 2006
Flushed Away – November 2006
Meet the Robinsons – March 2007
Shrek the Third – May 2007
Ratatouille – June 2007
Bee Movie – November 2007
King Fu Panda – June 2008
WALL-E – June 2008
Madagascar: Escape 2 Africa – November 2008
Bolt – November 2008
Up – May 2009
How To Train Your Dragon – March 2010
Shrek Forever After – May 2010
Toy Story 3 – June 2010
Megamind – November 2010

UPCOMING MOVIES

GIRL PROTAGONISTS
Brave – 2012

BOY PROTAGONISTS
Kung Fu Panda 2 – 2011
Winnie the Pooh – 2011
Puss in Boots – 2011
Cars 2 – 2011
The Croods – 2012
Madagascar 3 – 2012
The Guardians of Childhood – 2012
Monsters Inc 2 – 2012
King of the Elves – 2012
Reboot Ralph – 2013
Me and My Shadow – 2013 
How to Train Your Dragon 2 – 2013
Pig Scrolls – 2013